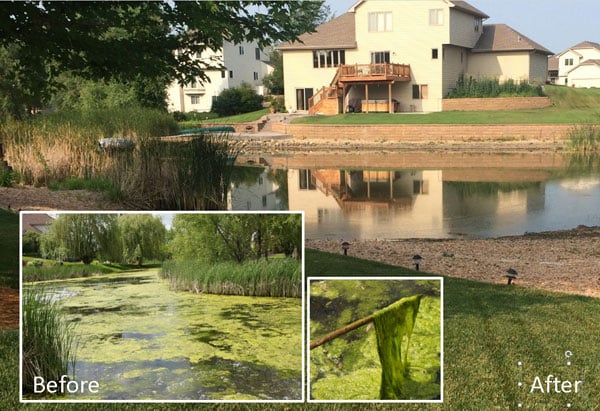 One of the easiest ways for you to treat your pond is to have Lake Restoration do it for you!
Restore the natural beauty of your pond
Eliminate unpleasant odors caused by algae
Increase recreational use of your pond
Control of Nuisance Aquatic Plants and Algae in Ponds
Lake Restoration services ponds for the control of nuisance aquatic plants and algae in the eleven county area around Minneapolis and St. Paul. Counties withing our service area include Ramsey, Hennepin, Washington, Dakota, Scott, Carver, Wright, Stearns, Sherburne, Anoka, and Isanti.
Markets we Serve for Aquatic Plant and Algae Control in Ponds
Communities/HOA's
Apartments/Multi-Family
Private Landowners
Commercial Development
Residential Development
Golf Courses
Corporate Campuses
Municipalities/Parks and Rec
Pond Services Offered:
Submerged Aquatic Plant Control
Duckweed Control
Watermeal Control
Algae Control
Cattail Control
Lake Restoration offers two levels of Service, we have a monthly treatment program which runs from May through September and then we have an Ulta treatment program where we visit your pond seven times between the months of April through September. Both treatment programs focus on treatment of submerged aquatic plants, Duckweed, Watermeal and Algae control. Our trained licensed applicators will assess your pond at each visit to determin what the best product or product mix is to treat the conditions of your pond.
Our Pond Treatment Methods:
Our service crews have multiple ways to properly treat your pond based upon the size of the waterbody. These can range from entering your pond with our 8′ boat or using the Tormada® product application boat to complete the treatment.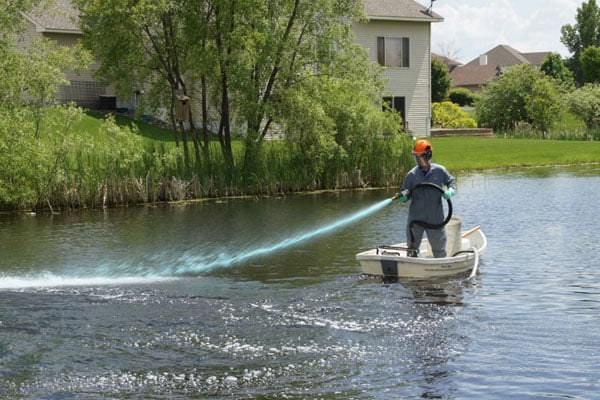 Other Pond Services Offered Within our Eleven County Pond Service Area:
Lake Restoration is now offering installation and removal of your Lake Restoration Vitaflume® floating fountain. Call us for more details on the service.
Are Geese a problem in your pond? Lake Restoration will install your Goose D-Fence® system around your pond for you. Call us for more details on this service.
Contact Us about Pond Weed Control
Frequently Asked Questions
The die-down of invasive plants after a pesticide treatment generally takes 1-3 weeks. This varies with target species, product used, product rate, and other factors. What does not vary is that Lake Restoration will execute the treatment program as effectively as possible.